The Walton Area Chamber of Commerce believes that small business is the backbone of our economy and community. We have created a strategic partnership with the Florida Small Business Development Center (SBDC) at the University of West Florida to bring no-cost business consulting services to our offices in South Walton and DeFuniak Springs.

The Florida Small Business Development Center (SBDC) at the University of West Florida provides up-to-date management advice, training, and information to help business owners make sound decisions and to assist potential owners in starting off on the right foot.
We offer NO COST consulting services in the following areas:
Business Continuity and Disaster Planning
Start-Up Assistance
Capital Access
Strategy Review
Financial Analysis
Sales and Market Growth
Marketing
Business Planning
Government Contracting
International Trade
and more!
The SBDC's performance is assessed based on the contribution and economic impact of the businesses it supports. Due to our success, we have been chosen and written into law [§ 288.001, Fla. Stat.]  as Florida's Principal Provider of Business Assistance.
To request consulting services, visit the Florida SBDC website (https://sbdc.uwf.edu/) or email tmauer@uwf.edu.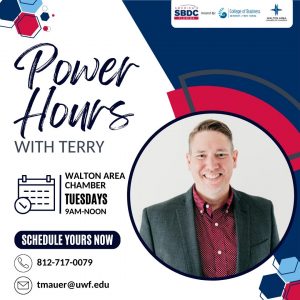 Meet SBDC Consultant Terry Mauer!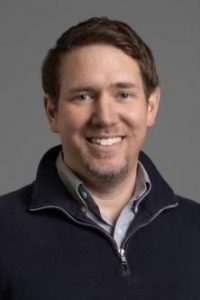 Terry holds office hours at the Walton Area Chamber offices every Tuesday from 9:00 a.m. to 12:00 p.m. Please email him to schedule a meeting.
Terry comes to the Florida SBDC at UWF as a hospitality professional with over twenty years of specialized experience. He has held leadership positions in both corporate and independent organizations. For the majority of the past decade, he has devoted his time to assisting independent restaurateurs to develop, launch, and expand new and existing lodging, food and beverage, and entertainment concepts throughout the region. Through operating high-volume establishments, from casual themes to fine dining, Terry has a recognized skillset and expertise comprised of the following:
Concept Development & Planning
High-performance Team Building
Financial Management & Analysis
Grassroots Marketing
Event Planning & Management
Guest Service Strategy and Implementation
Continuous Performance Improvement
Operational Analysis & Process Development
Human Resources Functions
During his time at Ball State University, he earned a B.S. in General Management and Business Operations, served on the Dean's Student Advisory Board at the Miller College of Business, was Vice President of the Collegiate Entrepreneur's Organization (CEO), and acted as Vice President of the University Program Board. Terry also obtained minors in Entrepreneurship and Hospitality and Tourism Management. He is currently pursuing his Master's in Business Administration at the University of West Florida. Terry also serves as the Board of Directors Vice President for Save Our Cats & Kittens, Inc. and is a member of the Board of Directors for the Northwest Florida Ballet.
Originally from Indiana, Terry has been a resident of the Florida panhandle for more than ten years. He and his wife, Hope, met at a time when they were employed by the same company. They married in October 2014 and adopted their dog, Reuben, in 2015. They also have a cat named Trudy.