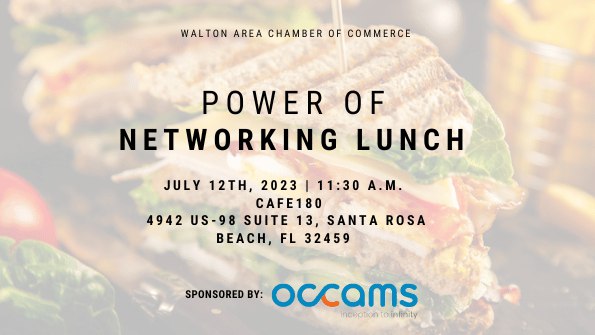 Mark your calendars for July 12th at 11:30 a.m. and join us for an exciting July Power of Business Lunch, generously sponsored by Occams.
Experience the perfect blend of networking, enjoyable activities, and mouthwatering food at Cafe180 in Santa Rosa Beach. Don't miss this fantastic opportunity to connect with fellow professionals while indulging in a delightful lunch experience!
Networking is the name of the game at the Chamber's monthly Power of Business Luncheons. Network with hundreds of business leaders each month over a delicious lunch.
The Power of Business Luncheon provides an excellent opportunity for attendees to showcase their businesses, promote products, and let others know how you can serve their business needs, all while enjoying a three-course lunch and a spectacular speaker!
Want to Sponsor a Luncheon?