North Walton Tourist Development Tax (Bed Tax)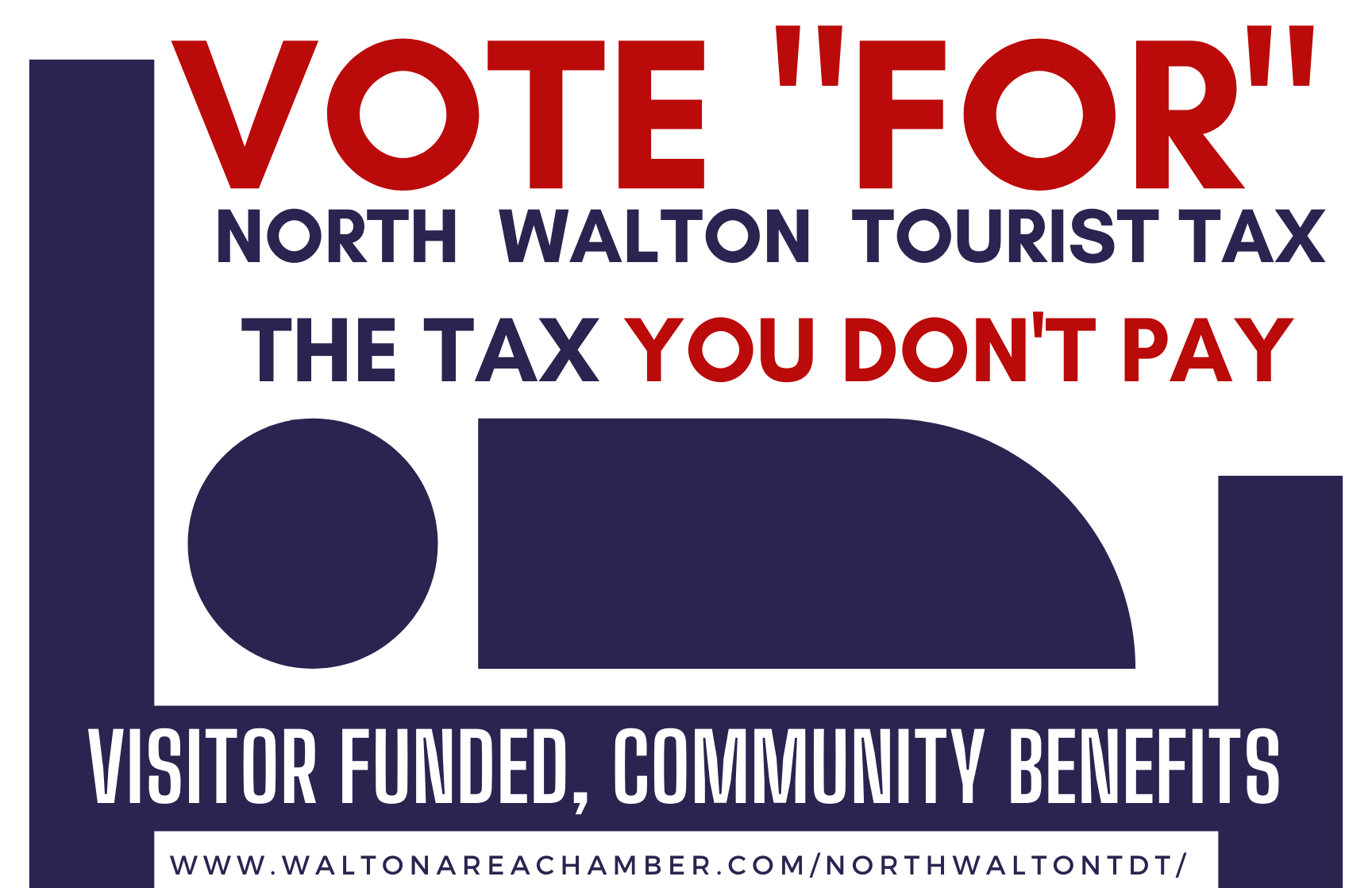 Walton County voters registered north of the Choctawhatchee Bay and Intercoastal Waterway will vote this November 3, 2020, on a referendum approved by the Walton County Board of County Commissioners to pass a North Walton Tourist Development Tax, more commonly known as a "bed tax", to be collected from visitors staying in hotels, condos and other short-term rentals (periods of time less than 6 months). As such, this is not a tax that locals and residents normally pay.
The Walton Area Chamber fully supports the passage of this referendum. The passage of this referendum and implementation of a "Bed Tax" to be collected at hotels and short-term accommodations north of the Bay will positively impact our community, our businesses and our citizen's quality of place. Vote "FOR" the North Tourist Development Tax on or before November 3!
Tourism Drives Business in Walton County
More than 23,000 Walton County jobs are created by tourism
Visitors from out of the area spend more than $3.5 billion in Walton County annually, including:

$1 billion on accommodations
$746 million on dining
$680 million on shopping
$461 million on entertainment
$217 million on groceries
$206 million on transportation

Tourism generates an annual total economic impact of $5.2 billion for Walton County
Visitors pay more than 67% of all taxes in Walton County, saving every Walton County household an average of $1,354 in taxes
Tourism encourages economic development—restaurants, healthcare, shops, construction, etc.
Tourism pays for amenities enjoyed by locals and visitors, including lifeguards, public beach accesses, parking, bike paths, beautification projects, events and more
100% of all tourism marketing is funded by the Tourist Development Tax (TDT)
100% of the TDT collections are paid by visitors
The Proposed North Walton Tourist Development Tax
A TDT for North Walton can result in more jobs, lower taxes for locals, greater promotion of North Walton County, and a higher profile for North Walton's businesses and attractions
In accordance with Florida law, funds raised from visitors through a TDT in North Walton would be spent to benefit/promote North Walton, likewise the funds raised in South Walton are used to benefit/promote South Walton
The TDT collections collected in North Walton can be used to promote historical and eco-tourism attractions in North Walton
The TDT collections can also be used for tourism related infrastructure improvements that benefit locals and visitors alike
Enacting a TDT in North Walton will allow inclusion of two North Walton elected representatives on the Tourist Development Council
Upon passage of the referendum, the BCC will create a North Walton Committee that will serve in an advisory capacity to the Tourist Development Council; the committee will be made up of 9 members representing the North Walton tourist industry
100% of the North Walton TDT will be paid only by short-term visitors (not long-term renters or residents)
*Source: 2019 Tourism Update - compiled from Walton County TDC annual research on economic impact
Resources for North Tourist Development Tax