Event sponsor:

Event sponsor:

Event sponsors: 

Event sponsors: 

Event sponsors: 

Event sponsors: 

Event sponsors: 

Event sponsors: 

Event sponsors: 

Event sponsors: 

Event sponsor:

Event sponsors: 

Event sponsors: 

Event sponsors:
Join the Walton Area Chamber of Commerce's for our 5th Annual Women's Symposium, presented by Fort Walton Beach Medical Center, on August 23, 2017 at the Hilton Sandestin Beach Golf Resort and Spa. At this symposium over 200 attendees will come together for a fun day of networking, enrichment courses and entertainment.

The event will showcase phenomenal speakers, addressing topics beneficial to empowering women professionally and personally. Attendees will have the opportunity to hear two national keynote speakers and attend three enrichment courses.

Enjoy a delectably tasteful breakfast and lunch as well as a cocktail hour to conclude the day. An exhibitor showcase will be featured where you'll have the opportunity to shop at exciting vendors.

Make sure you stay till the end for your chance to win a $1000 VIP door prize sponsored by the Howard Group and Silver Sands.

Click here to register for the event.

Speakers:
Angela Brown, keynote


Angela Brown is the Founder and President of Empowering Actions, LLC. Her company provides leadership coaching and training to organizations and individuals worldwide. Angela Brown is a certified John C. Maxwell international leadership coach, speaker and trainer and also serves as leadership coach for the Fuqua School of Business at Duke University for their Global Executive MBA students. She has trained over 1,700 business owners and executives in the U.S., Canada, Puerto Rico and Australia, teaching leadership, sales and communication skills.

Prior to starting her own firm in 2003, Ms. Brown spent over 20 years in Corporate America managing teams as a marketing, sales and business development executive in the healthcare and insurance sectors. As a successful entrepreneur, Angela has spent over 10 years developing and growing a multi-million dollar Corporate Wellness and Training Company, Workplace Spa, which she sold in 2008.

She is recognized by the Kansas City Business Journal as a Woman Who Means Business, as one of Kansas City's most Influential Women by KC Business magazine and has been on the cover of Empowering Woman magazine as one of the top Direct Sales earners in the nation.

She holds a Bachelor of Arts Degree in Business with an emphasis in Human Resource. Management from Lindenwood University in St. Louis. Angela is married to her husband Tim of 30 years and has three grown children. She and her husband recently relocated to the Raleigh North Carolina area.


Sue Mosby, keynote


Sue Mosby is the Founder and CEO of Infinium, an innovation consultancy. For over 30 years, she has helped senior leaders envision strategic direction, capture new growth opportunities, imagine new products and service lines, and build innovation competency in their organizations. Her unique ability to merge creativity and design thinking enables her client's to build the mindset, skillset, toolset and process to succeed.

Sue holds a design degree from the University of Missouri and is a former co-owner of a sixty-person architectural firm. Sue is a Certified Innovation Mentor from iVia | Certified Innovation Mentor Program founded by Notre Dame, Whirlpool and Beacon Health Systems. She is the former Faculty Coordinator for the program, and serves on the national iVia Steering Committee.

As a recognized leader in innovation and change leadership, Sue is often sought as a keynote speaker for conferences and organizational meetings. Sue's energy and enthusiasm is captivating and a breath of fresh air in business settings and conferences. Her industry experience includes financial services, consumer products, packaging, engineering, telecommunications, technology and manufacturing companies. Some of Sue's clients include H & R Block, Samsung, Sprint, Black & Veatch, American Century Investors, Wells Fargo, DST Systems, Terracon, Milbank Manufacturing and Bank of Texas.


Terri Fedonczak, enrichment speaker




As Executive Director of Find Your Pride Foundation, Terri Fedonczak coaches individuals and groups to reduce stress and improve their quality of life through the Foundation's two businesses: Girl Power Station Women's Wellness Destination and 850 Elite Volleyball Academy, where her mission of empowering girls of all ages is put into practice.

Ms. Fedonczak was born and raised in Northwest Florida with an eight-year stint in San Diego, California. She was a real estate agent for nearly 20 years, both in California and Florida, until a battle with breast cancer in 2010 spurred her to leave her job in commercial real estate and follow her dream of completing her life coaching certification with Dr. Martha Beck (the author of seven bestselling books, columnist for O Magazine, and a frequent guest on OWN, the Oprah Winfrey Network).


In her coaching and speaking career, Ms. Fedonczak helps parents find a balance in their work and family lives, while at the same time improving communication between moms and teenage daughters. Ms. Fedonczak was born and raised in Northwest Florida and is a member of one of the founding families of the Valparaiso/Niceville area.

As a life-long resident, she feels a responsibility to carry on the tradition of improving her community as an active volunteer. Ms. Fedonczak is a graduate of Florida State University and a member of Phi Beta Kappa. She has been married for nineteen years, and together she and her husband have 4 daughters ranging in age from 17 to 25. Ms. Fedonczak is the author of Field Guide to Plugged-In Parenting, available at Amazon and Barnes and Nobles.


Anita Skipper, enrichment speaker



Anita Skipper is a retired United States Air Force (USAF) Officer with over 25 years of acquisition and leadership experience. She was a career contracting officer holding positions as an unlimited warranted Contracting Officer, procurement analyst, executive officer, instructor and training manager for the contracting career field. She was deployed to numerous locations in support of Operations JOINT GUARDIAN, ALLIED FORCE, IRAQI FREEDOM, and ENDURING FREEDOM.

Anita enlisted in the Air Force in August 1986 as a Contract Specialist. She has extensive operational contracting leadership experience and is a USAF recognized deployed Contingency Contracting Officer. She received her Air Force commission through Officer Training School at Maxwell AFB, Alabama. She is a Certified Acquisition Professional (Level III Contracting and Level II Program Management).

Prior to her military retirement she provided key acquisition leadership for numerous programs for the national defense of our nation. Since retirement she has become a community advocate for the Gulf Coast area. She has taken on leadership roles with local nonprofit organizations and serves on the Board of Directors for IMPACT 100 of Northwest Florida and Mattie Kelly Arts Foundation. She engages community awareness by recognizing "needs" as "opportunities" and is instrumental in raising funds, acquiring grants and improving local quality of life."


Amy Giles, enrichment speaker
(Photo: Pure 7 Studios)


Amy Giles is the founder of Wardrobe Made Simple, a business developed to help women and men take an organized approach to fashion and feel more confident through personal style. Giles' affinity for fashion and history of helping friends and family with styling needs led her to create the Santa Rosa Beach, Florida, based company in 2014. While Giles' home base is Walton County she is known to travel to assist clients from all over the southwest. Services include wardrobe evaluation, personal shopping, packing services and professional speaking engagements.

_______________________________________________________________________________________________________

Event sponsorship opportunities: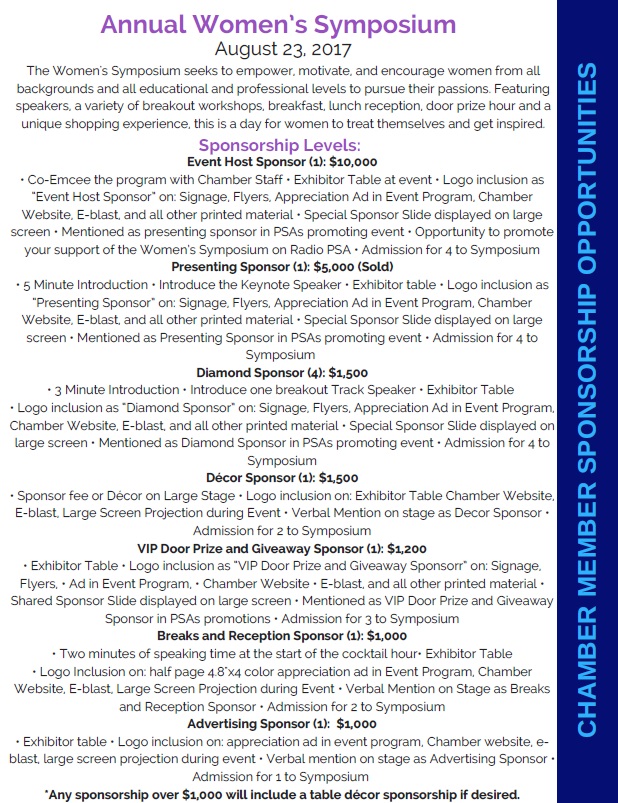 For more information about sponsorships, contact our event coordinator Gabby at gabrielle@waltonareachamber.com.

Click here to register for the event.

Stay tuned for additional event details!